Summus * Maximus * Fortis
You should know by now that Oneplus does not ship to the Philippines nor accept payment other than Paypal. So we will need to have a working credit card and a US Paypal account to pay from, a legit US address where your item will be initially delivered, and a mail forwarding service to get the groundbreaking Oneplus One delivered to the doorsteps of your beloved home in the Philippines.
Choose one below:
Thanks to @Jevoly for the invite. To pareng @GhilS, pareng Maynard100 at pareng bryanXD sa tulong! Huge shoutout to Pinoy Fan Club and MIS admins!
PS: Wag i-bash ang website. Ginamit ko lang to sa isang lumang highschool project. Wala nang nagmomoderate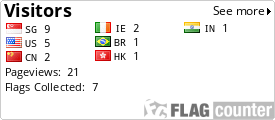 -------

Help transform this website to www.jyeonline.com!
Visit the homepage now and donate!

Categories: Tutorials